All about Breo Ellipta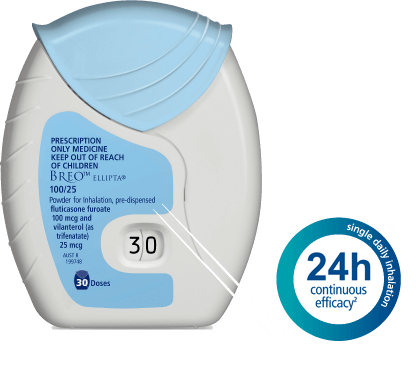 Breo Ellipta is a breath of fresh air in the treatment of asthma and Chronic Obstructive Pulmonary Disease (COPD).1
This innovative treatment is designed to deliver 24 hours of easier breathing from just a single inhalation.2,5,12
How did Breo Ellipta get its name?
'Breo' refers to the actual medicines and 'Ellipta' is the easy to use inhalation device.1
Breo is made up of two molecules: fluticasone furoate, an inhaled corticosteroid (ICS); and vilanterol, a long-acting beta2-agonist (LABA).1
These two molecules work together to control your asthma: fluticasone furoate helps decrease inflammation in the lungs.3,11 Inflammation in the lungs can lead to breathing problems. And vilanterol opens lung airways by helping the muscles around them stay relaxed, preventing symptoms.9
The combination of these molecules creates the innovation – breathing easier round the clock in one single inhalation.2,5
Who is Breo Ellipta for?
Two groups of people can benefit from this innovative treatment:
Asthma patients aged 12 years old and over for the regular treatment of their asthma1
Adult patients with COPD who have experienced flare-ups and need to treat their symptoms1
How do you use the device?
Breo Ellipta is a dry powder inhaler. This is different to a metered dose inhaler, or 'puffer' which uses a chemical propellant to push the medication out of the inhaler. Breo Ellipta needs to be inhaled to ensure the medicine reaches your lungs. Breo Ellipta does not contain propellants - just your medication.1
Follow these three very simple steps to breathe easier for 24 hours with Breo Ellipta: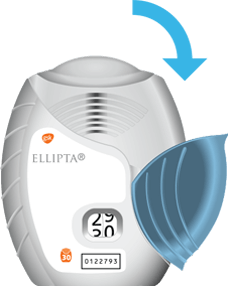 1. Prepare
Open the cover of the inhaler by sliding the cover down to expose the mouthpiece until you hear a click.
The counter will count down by one number.
Breathe out fully while holding the inhaler away from your mouth.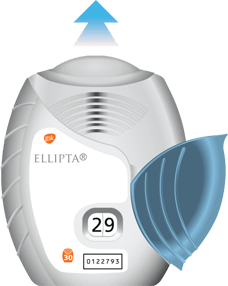 2. Inhale
Put the mouthpiece firmly between your lips and take one long steady breath in through your mouth.
Remove the inhaler from your mouth and hold your breath for about 3 to 4 seconds.
Breathe out slowly and gently away from the inhaler. Be careful not to cover the vent with your fingers when inhaling.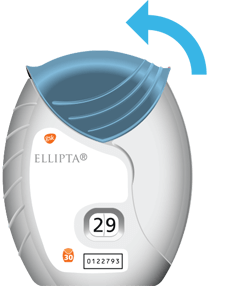 3. Close
Close the inhaler by sliding the cover up and over the mouthpiece as far as it will go.